The market continues to be red hot for sellers, fueled mainly by low supply. A few quick stats from our local market:
Last month we had roughly 1,400 active listings compared to 5,800 this time last year (which is also close to our 5 yr running avg). That's about 1/4 of the previous supply
Demand is not letting up; closed sales are up 50% from a year ago
According to 2020 US Postal Service change of address records, Sarasota is #2 nationally for where people are moving to (Sarasota Magazine)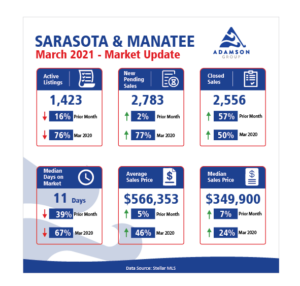 As always, please don't hesitate to reach out if we can help you or your family in any way!
Best regards,
The Adamson Group
Jim, Ryan & Chrisi